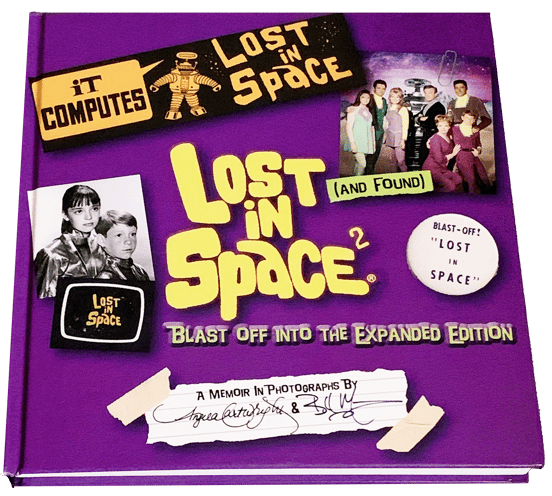 Lost (and Found) in Space 2
Blast Off into the Expanded Edition
A Pictorial Memoir
Hardcover
List Price $60
352 Pages; 8.5" x 8.5"
Revised and Expanded Pictorial Memoir by Angela Cartwright and Bill Mumy (TV siblings Penny and Will Robinson from the original Lost in Space science fiction adventure series). The new "BLAST OFF" Edition contains 352 pages and over 925 photos, including 160 brand new pages and more than 600 newly found images. This high-quality collectible book features a vast selection of never-before-seen photos from the Irwin Allen and network archives and from Bill and Angela's own vast personal collections. All photographs have been hand selected by the authors, with a primary focus on the 1965-68 three season run, plus bonus nostalgic reunions from the past 50+ years. Loaded with personal stories and memories from the authors, this edition is the ultimate keepsake for those who love the original 1960s TV show. Danger Will Robinson!
· With 352 pages and over 925 photographs, this Brand New, Expanded pictorial memoir
is almost twice the size, with three times the photos of the original, out-of-print book.
· Loaded with personal stories and memories from the authors.
· For the first time, never-before-shared secrets are revealed.
· Expanded to include a plethora of post-series Lost in Space reunions and adventures
over the past 50+ years
· Includes special bonus treasures from Bill & Angela's personal collections and
brand new surprises too








DELUXE Autographed Edition
Hardcover Lost (and Found) in Space 2: Blast Off into the Expanded Edition, autographed by authors Angela Cartwright & Bill Mumy, & personalized by Angela upon request.
- Includes a surprise Lost in Space unsigned 8 x 10 photograph, selected by the authors.
$125 at AngelaCartwrightStudio.com
Premium Printed Edition
Exclusive Hardcover edition available at Lulu.com is printed on premium coated paperstock and the highest image resolution available
$60 at Lulu.com
Mass Market Edition
Hardcover Mass Market Printing edition available at Amazon.com and other online retailers
List Price $60